On 9 September 1890, Harland Sanders was born and raised on a farm outside Henryville, Indiana (near Louisville, Kentucky).
At the age of 44, and after years of serving from his dining room table, Sanders purchased the larger filling station on the side of US Route 25 just outside North Corbin, Kentucky, and expanded to six tables.
By 1936, this had proven successful enough for Sanders to be given the honorary title of Kentucky colonel by Governor Ruby Laffoon.
In 1937 he expanded his restaurant, Harland Sanders Café, to 142 seats and added a motel he purchased across the street, naming it Sanders Court & Café.

In 1939, the first commercial pressure cookers were released onto the market, mostly designed for steaming vegetables. And as Sanders was not was unhappy with the 35 minutes it took to prepare his chicken, he bought one of the pressure cookers and modified it into a pressure fryer, which he then used to fry chicken. The new method reduced production time to be comparable with deep frying, while, in the opinion of Sanders, retaining the quality of pan-fried chicken.
In July 1940, Sanders finalized what came to be known as his "Original Recipe" of 11 herbs and spices. Although he never publicly revealed the recipe, he admitted to the use of salt and pepper, and claimed that the ingredients "stand on everybody's shelf".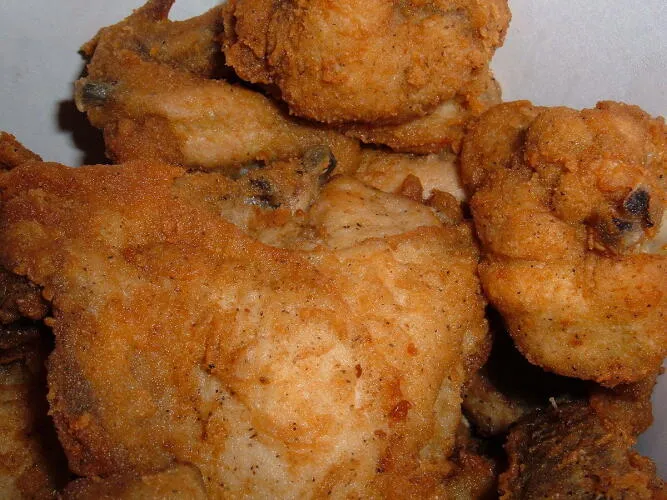 In 1950, and after being recommissioned as a Kentucky colonel by Governor Lawrence Wetherby, Sanders began to dress the part, growing a goatee and wearing a black frock coat (later switched to a white suit), and a string tie.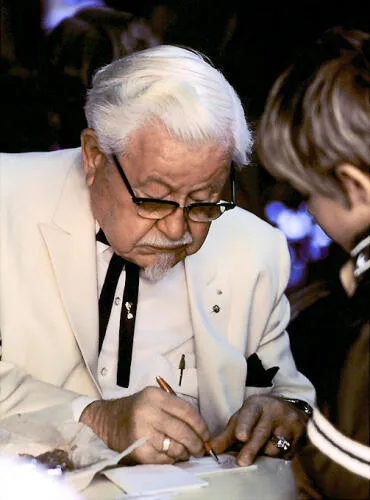 In 1952, Sanders had already franchised his recipe to his friend Pete Harman of South Salt Lake, Utah, the operator of one of the city's largest restaurants. Soon after, Don Anderson, a sign painter hired by Harman, coined the name "Kentucky Fried Chicken". For Harman, the addition of KFC was a way of differentiating his restaurant from competitors; a product from Kentucky was exotic and evoked imagery of Southern hospitality.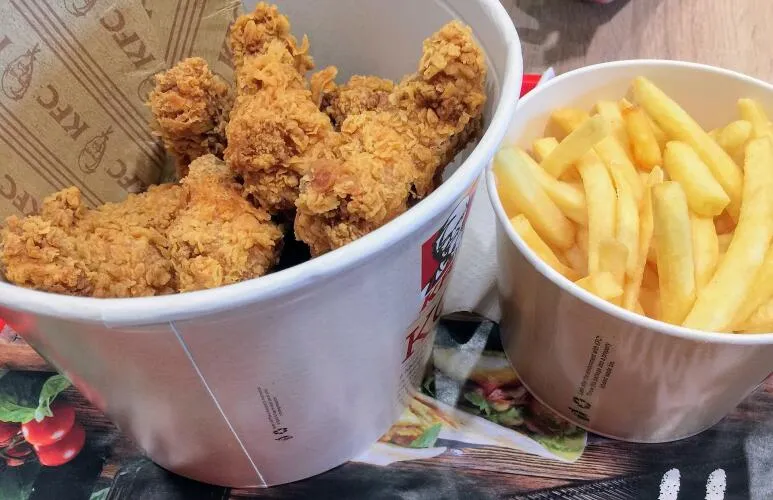 In 1955, Sanders sold his properties and traveled the US to franchise his chicken recipe to restaurant owners. Independent restaurants would pay four (later five) cents on each chicken as a franchise fee, in exchange for Sanders' secret blend of herbs and spices and the right to feature his recipe on their menus and use his name and likeness for promotional purposes.
The first KFC opened in 1955, 65 years ago in Saskatoon, Canada. Now, there are more than 600 restaurants.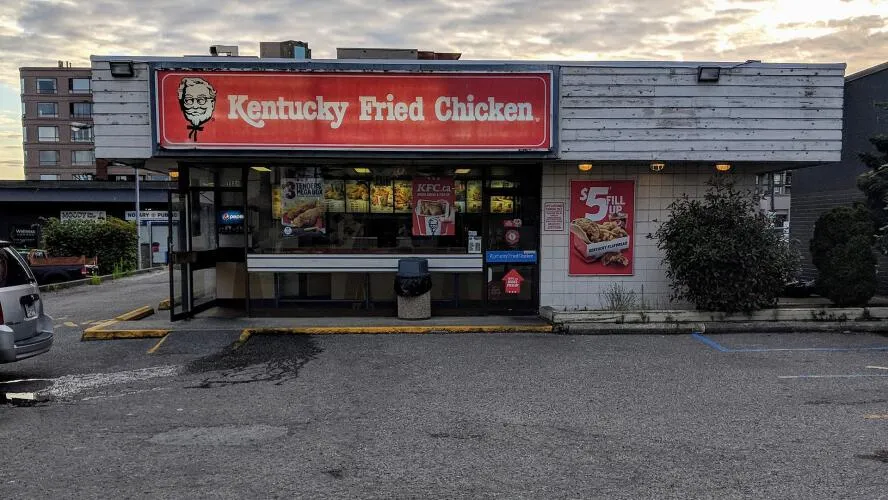 Harman trademarked the phrase "It's finger lickin' good", which eventually became the company-wide slogan. And in 1957 he also introduced the bucket meal, 14 pieces of chicken, five bread rolls, and a pint of gravy in a cardboard bucket. Serving their signature meal in a paper bucket was to become an iconic feature of the company.
In 1957, Colonel Harland Sanders gave an interview to CBC Radio detailing his experience with Canadian food that led to the opening of one of his restaurants in Canada.
By 1963 there were 600 KFC restaurants, making the company the largest fast-food operation in the United States. KFC popularized chicken in the fast-food industry, diversifying the market by challenging the established dominance of the hamburger.
In 1963, KFC was the first fast-food restaurant opened in Monterrey, Mexico. By 2017, there were 341 outlets in the country.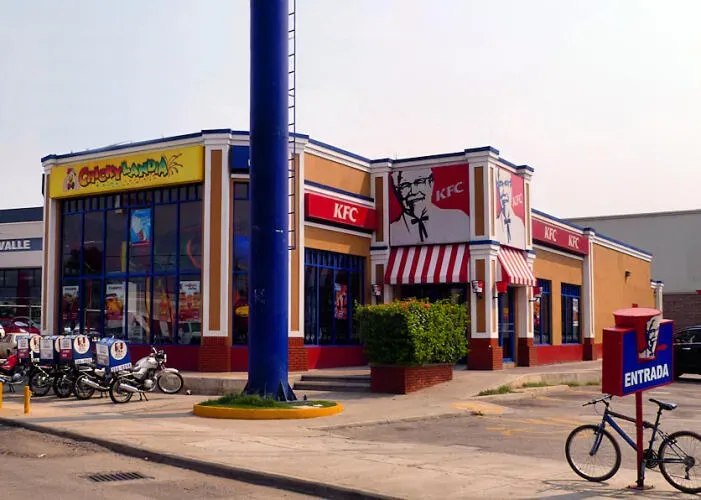 In 1964, Sanders sold the company to a group of investors led by John Y. Brown Jr. and Jack C. Massey for US$2 million. The contract included a lifetime salary for Sanders and the agreement that he would be the company's quality controller and trademark.
England had the first overseas branch of KFC which opened in Preston, Lancashire in May 1965, and was the first American fast-food restaurant chain in the country, pre-dating the arrival of McDonald's, Burger King and Pizza Hut by almost a decade.
In the Philippines, KFC opened its first store in 1967. It's one of the few countries in the world where KFC has pasta on its menu.
The first Australian KFC was opened in 1968 in Guildford, a suburb of Sydney. Now, there exist more than 640 outlets in Australia.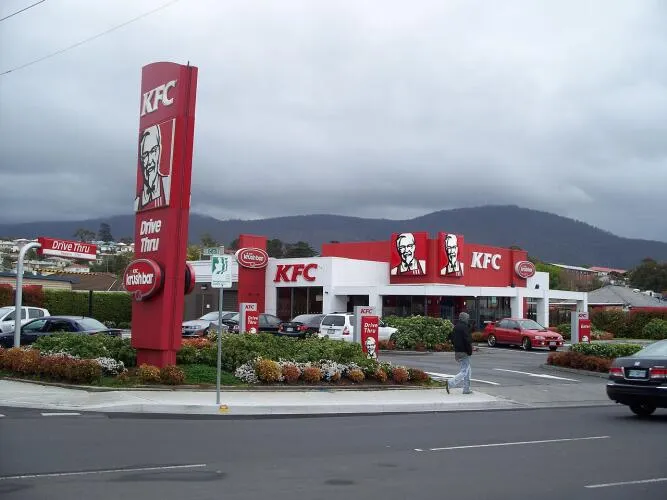 By 1970, The chain had reached 3,000 outlets in 48 different countries.
KFC Japan was formed in 1970 as a joint venture between the American parent and the Japanese Mitsubishi Corporation.
Between 1970 and 1971, 75 outlets were opened, this had a major impact on Australian chicken production, which increased by 38 percent during the period.
In July 1971, Brown sold the company to Heublein based in Connecticut, a packaged food and drinks corporation, for US$285 million.
In 1971, The first KFC opened in New Zealand at Royal Oak, a suburb of Auckland. Now, there exist over 100 outlets in New Zealand.
the Malaysian KFC traces its origin from 1 January 1973, from its first outlet in Jalan Tunku Abdul Rahman, Kuala Lumpur. Now, there exist more than 700 KFC outlets.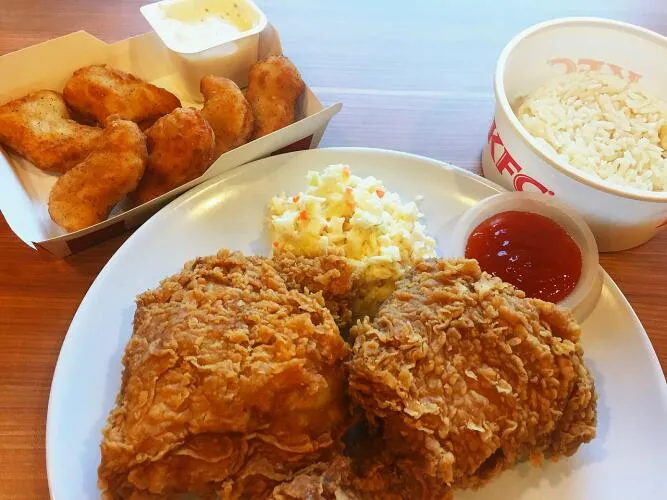 In 1973, The first KFC in the Middle East opened in Kuwait. Today there are over 700 outlets, certified halal, including the United Arab Emirates, Egypt, Qatar, Bahrain, Oman, Jordan, Lebanon, Morocco, Iraqi Kurdistan, and Saudi Arabia.
In December 1974, KFC Japan began to promote fried chicken as a Christmas meal. Eating KFC at Christmas time has become a traditional Christmas Eve Dinner.
In 1977, KFC was first launched along Somerset Road, Singapore. Now, there exist more than 88 KFC restaurants in Singapore, currently owned and operated by KFC (Malaysia) Holdings Bhd.
In Pakistan, the first outlet of KFC was opened in Gulshan-e-Iqbal, Karachi, in 1997. But now KFC exists in 31 major cities of Pakistan with more than 92 outlets nationwide, out of which 22 are in Karachi, and 17 are in Lahore. KFC in Pakistan introduced a new food item named "Zingeratha" which is a fusion of Zinger and Paratha, a traditional food of Pakistan.
In 1979, The first outlet opened in Jakarta, Indonesia. Now, KFC is the largest Western restaurant chain with over 608 outlets.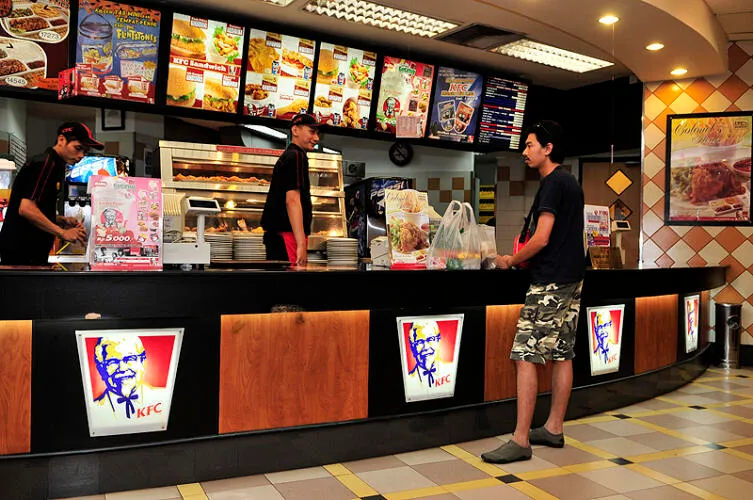 Initially, Sanders and KFC used hydrogenated vegetable oil for frying, but in the 1980s the company began to switch to cheaper oils such as palm or soybean.
On 16 December 1980, his promotional work making him a prominent figure in American cultural history. By the time of his death, there were an estimated 6,000 KFC outlets in 48 different countries worldwide, with $2 billion of sales annually.
KFC first opened in Africa was in Mauritius in 1981. The company is slowly expanding across the African continent, opening 70 outlets, but progress has been hampered by sourcing issues, such as lack of quality suppliers.
In July 1982, Heublein was acquired by R. J. Reynolds, the tobacco giant, and sold KFC to PepsiCo for $850 million. PepsiCo made the chain a part of its restaurant division alongside Pizza Hut and Taco Bell.

In Taiwan, KFC entered the market in 1984 and opened its first store in 1985 in Taipei City. Now, there exist more than 137 outlets.
In November 1987, KFC became the first Western fast-food company in China after its first outlet opened in Qianmen, Beijing.KFC is the largest restaurant chain in China, with more than 5,919 outlets. They are operated by the Yum! China division.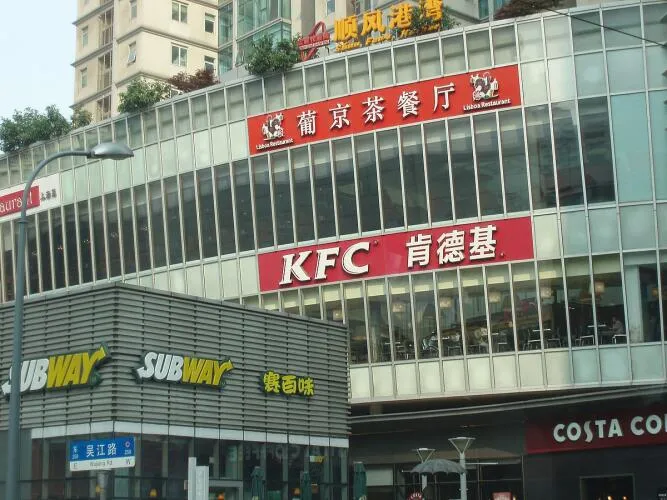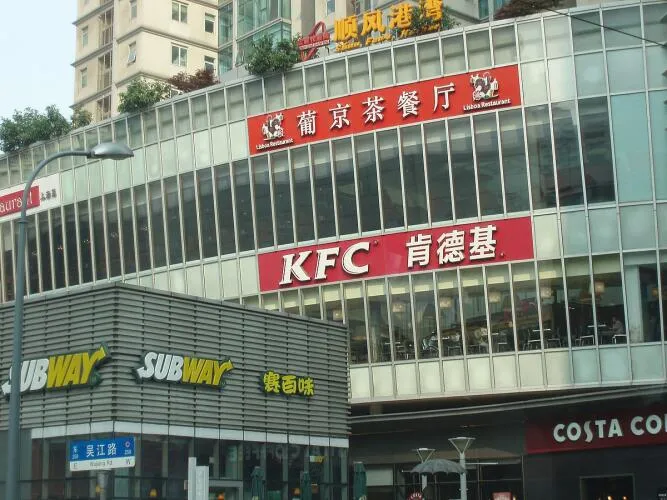 In 1991, the KFC name was officially adopted, although it was already widely known by that initialism but was officially called Kentucky Fried Chicken. Kyle Craig, president of KFC US, admitted the change was an attempt to distance the chain from the unhealthy connotations of "fried".
The early 1990s saw a number of successful major products launched throughout the chain, including spicy "Hot Wings" (launched in 1990), popcorn chicken (1992), and internationally, the "Zinger", a spicy chicken fillet sandwich (1993).
KFC Israel existed from 1993 to 2013 and featured kosher restaurants.
By 1994, KFC had 5,149 outlets in the US, and 9,407 overall, with over 100,000 employees.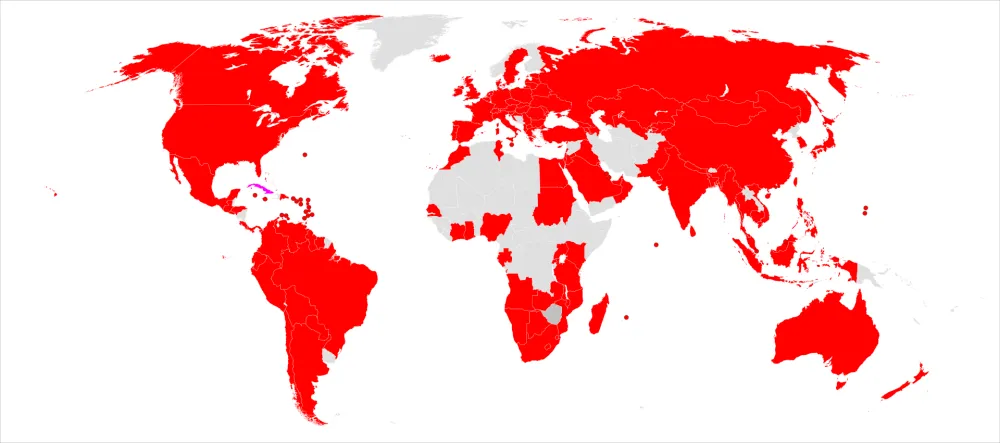 The first Indian KFC was a two-story outlet on the fashionable Brigade Road in Bangalore in June 1995. There are 350 KFC outlets in India. The company has adopted the standard KFC offerings to Indian tastes and the menu options in India include the Hot & Crispy Chicken and Fiery Grilled bucket options, Chicken Zinger, Krushers, Rice Bowlz, and the more recently launched 5-in-1 Meal Box.
In 1995, Projek Penyayang KFC was founded, in Malaysia, in an effort to provide food to more than 150 orphanages every quarter.
In 1995, KFC was first launched at Majestic City, Sri Lanka. Now, there exist more than 40 KFC restaurants in Sri Lanka.
In August 1997, PepsiCo spun off its restaurant division as a public company valued at US$4.5 billion. The new company was named Tricon Global Restaurants, and by that time it had 30,000 outlets and annual sales of US$10 billion, making it second in the world only to McDonald's.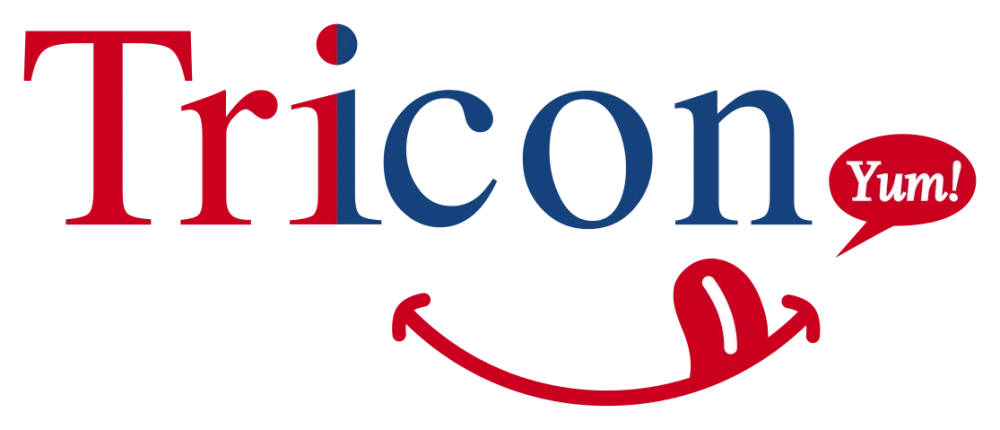 In May 2002, Tricon was renamed Yum! Brands.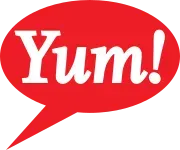 In Bangladesh, the first KFC outlet was opened at Gulshan in 2006. Now, there are over 23 outlets in Bangladesh.
In the 2000s it became apparent that these oils contain relatively high levels of trans fat, which increases the risk of heart disease. By April 2007, the chain had switched to trans fat-free soybean oil in all of its US outlets.
In Cambodia, KFC first opened on Monivong Boulevard in Phnom Penh in April 2008. Now there exist 7 outlets in Cambodia.
In December 2012, the chain faced allegations that some of its suppliers injected antiviral drugs and growth hormones into poultry in ways that violated food safety regulations. This resulted in the chain severing its relationship with 100 suppliers, and agreeing to "actively co-operate" with a government investigation into its use of antibiotics. KFC China sales in January 2013 were down 41 percent against the previous year.
In December 2012, the chain was criticized in China when it was discovered that a number of KFC suppliers had been using growth hormones and an excessive amount of antibiotics on its poultry in ways that violated Chinese law. And admitted by Yum! CEO David Novak, this scandal had a strong impact on store sales.
In 2013, Japan became the third-largest market for KFC after China and the United States with 1,200 outlets.
By December 2013, there were 18,875 KFC outlets in 118 countries and territories around the world. There are 4,563 outlets in China, 4,491 in the United States, and 9,821 across the rest of the world. It had sales of $23 billion.
In July 2014, Chinese authorities closed down the Shanghai operations of the OSI Group, amidst allegations that it had supplied KFC with expired meat. Yum! immediately terminated its contract with the supplier, and stated that the revelation had led to a "significant and negative" decline in sales.
By 2015, the company was struggling, having lost business to other retailers and being surpassed by Chick-fil-A as the leading chicken retailer in the U.S. three years previously. To combat this, the company launched a new initiative with a plan to revamp its packaging, decor, and uniforms, as well as expanding its menu, along with some advertisements that included actors like Darrell, HammondNorm Macdonald, Jim Gaffigan, George Hamilton, and Rob Riggle that portrayed Colonel Sanders.
In Myanmar, the first KFC outlet was officially opened on Bogyoke Aung San Road in Yangon in 2015. Now, there exist more than 26 outlets, and there are plans to open Around 50 more outlets in Myanmar.
In 2016, the brand has been crowned as the largest fast-food chain in Malaysia and dominating 45% of the local Fast-Food Market shares with its traditional rival, McDonald's following in second, while its sister restaurant, Pizza Hut spotting at the third place.
In December 2007, Mitsubishi assumed majority control of KFC Japan in a JP¥ 14.83 billion transaction.
In February 2018, KFC had to temporarily close 575 of its UK outlets, and restrict menus and opening hours in other branches, as a result of its newly-contracted distributor, DHL, failing to deliver chicken to the outlets.
By 2018, the restaurant has established a strong presence in the country, estimated to serve almost an equal proportion with the total population of Malaysia with 25 million customers every month by its 14,000 employees.
As of 2018, QSR Brands (M) Holdings Bhd, the shareholder of the company in Malaysia is also responsible on managing 810 KFC outlets across Malaysia, Singapore, Brunei, and Cambodia, with more than 700 of these outlets are being located domestically in Malaysia, hence making the country one of the largest global market for the fast-food chain.
As of February 2019, KFC in the UK has around 110 restaurants that are Halal approved out of more than 900 units.
On 7 March 2019, KFC announced a new executive position, Chief Communications Officer, and Staci Rawls will fill that position.
In 2019, KFC is planned on opening up to 50 franchise restaurants in Finland, as the closest KFC restaurants are currently located in Sweden.
In December 2019 KFC has announced that it will be back to Israel until Christmas, planning to open dozens of restaurants by 2020.
In March 2020, the restaurant announced that it would be closing all its stores temporarily, in response to lockdown measures during the COVID-19 outbreak. On 15 April 2020, the store announced it would be reopening some stores for delivery services, as well as donating free meals to the NHS.