Yang was born in Schenectady, New York, on January 13, 1975. His parents were from Taiwan and immigrated to the U.S. in the 1960s. They met while they were both in graduate school at the University of California, Berkeley. His father graduated with a Ph.D. in physics and worked in the research labs of IBM and General Electric, generating over 69 patents in his career. His mother graduated with a master's degree in statistics and became a systems administrator at a local university. Yang has an older brother, Lawrence, who is a psychology professor.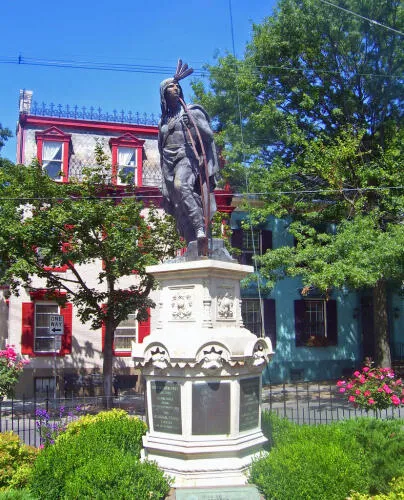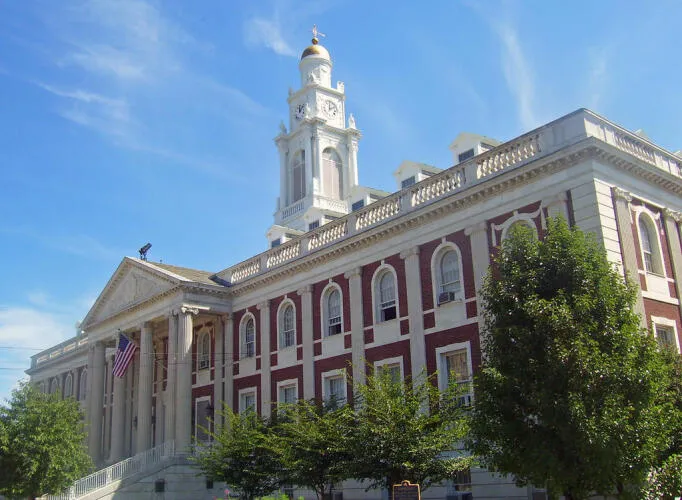 After working in the healthcare industry for four years, Yang left MMF Systems to join his friend Zeke Vanderhoek at a small test preparation company, Manhattan Prep. In an appearance on the podcast Freakonomics, Yang said he "personally taught the analyst classes at McKinsey, Goldman Sachs, JPMorgan, and Morgan Stanley " during the 2008 financial crisis. In 2006, Vanderhoek asked Yang to take over as CEO. While Yang was CEO, the company primarily provided GMAT test preparation. It expanded from five to 69 locations and was acquired by Kaplan, Inc. in December 2009. Yang resigned as the company's president in early 2012.
After graduating from law school, Yang began his career as a corporate attorney at Davis Polk & Wardwell in New York City. He left the firm in 2000 after five months to join his office mate in launching Stargiving.com, a website for celebrity-affiliated philanthropic fundraising. The startup had some initial success but folded in 2002 as a result of the end of the dot-com bubble. He became involved in other ventures, including a party-organizing business. From 2002 to 2005, Yang served as the vice president of a healthcare startup.

VFA's strategy was to recruit the nation's top college graduates into a two-year fellowship program in which they would work for an apprentice at promising startups in developing cities across the United States. Yang's book Smart People Should Build Things (2014) argues that the top universities in the country cherry-pick the smartest kids out of small towns and funnel them into the same corporate jobs in the same big cities. VFA's goal is to help distribute that talent around the country and incentivize entrepreneurship for economic growth.
Following the acquisition of Manhattan Prep in late 2009, Yang began to work on creating a new nonprofit fellowship program, Venture for America (VFA), which he founded in 2011 with the mission "to create economic opportunity in American cities by mobilizing the next generation of entrepreneurs and equipping them with the skills and resources they need to create jobs". VFA was launched with $200,000 and trained 40 graduates in 2012 and 69 in 2013, sending them to Baltimore, Cincinnati, Cleveland, Detroit, Las Vegas, New Orleans, Philadelphia, and Providence. VFA added Columbus, Miami, San Antonio, and St. Louis in 2014, with a class of 106.
Venture for America recruits recent college graduates to work in various startup industries, or the related industry of venture funding, for two years in economically challenged cities throughout the US. The goal of the program is for its Fellows to create jobs by eventually serving a senior role at their initial companies and hiring new employees, or by starting their own companies, which will then hire people. Venture for America accepts 10% to 18% of applicants. After acceptance into the program, all Fellows attend a five-week summer training program in Detroit, Michigan. There, the Fellows are taught and mentored by investors, venture capitalists, and innovation firms in the skills they will need at their companies. The skills they learn include topics of web design, entrepreneurship, and public speaking. Fellows are then placed in startups in cities like Baltimore, Detroit, and San Antonio in industries such as educational innovation, biotechnology, VC firms, media, and clean technology. Since 2012, Venture for America has trained over 700 fellows who have worked in 18 cities.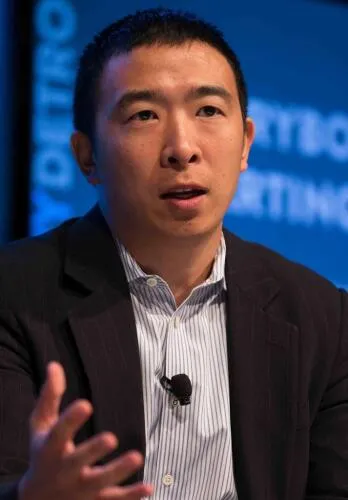 A documentary about Venture for America titled Generation Startup was released, co-directed by Cynthia Wade, an Academy Award winner, and Cheryl Miller Houser. 2016 also saw the addition of Atlanta and Nashville along with nearly 170 Fellows placed.
Yang stepped down from his position as CEO of VFA in March 2017 to focus on preparing for his presidential campaign.
Yang filed with the Federal Election Commission (FEC) to run for President of the United States in 2020. Initially considered a long shot, Yang's campaign gained significant momentum in February 2019 following an appearance on the popular podcast The Joe Rogan Experience. He has since appeared on numerous other podcasts and shows, including The Breakfast Club, The Ben Shapiro Show, and Real Time with Bill Maher. By March 2019, Yang had met the polling and fundraising thresholds to qualify for the first round of Democratic primary debates. In August 2019, he met the higher thresholds to qualify for the second round of Democratic debates.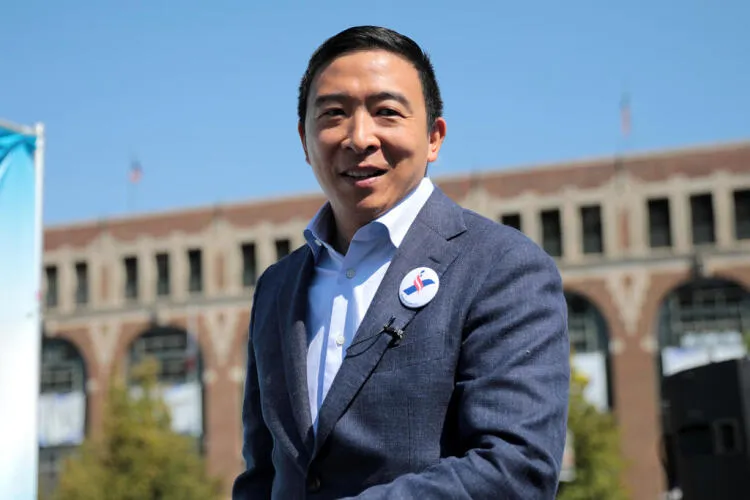 Followers of Yang's campaign are collectively known as the Yang Gang or #YangGang. They have brought attention to his campaign on Reddit, Facebook, Instagram, Twitter, and other social media platforms, through the use of Internet memes and viral campaigning. Media outlets have noted that much of the content circulated through these platforms—including memes, GIFs, podcasts, and Twitter tweets—has been instrumental to the campaign. According to Mother Jones, Yang's supporters have coordinated on platforms such as Discord and Reddit in order to boost Yang on online surveys hosted by various websites, including the Drudge Report and Washington Examiner. According to Iowa Starting Line, Yang has been able to attract former Republicans, Independents, and Libertarians, and Yang believes that "he could build a much broader coalition to beat Trump in 2020 than anyone else in the field".
As of June 28, 2019, Yang had received donations from more than 130,000 individual donors in at least 20 U.S. states, thereby meeting at least one of the requirements to be included in the first and second debates for Democratic presidential primary candidates, as well as the donor requirement for the third and fourth debates. The Democratic National Committee randomly determined that Yang would participate in the second night of the first debate, which took place in Miami on June 27. During the debate, Yang was asked only two questions and allowed to speak for two minutes and 56 seconds, the last time of any candidate. He claimed that his microphone malfunctioned, initially suggesting to the debate moderators that technical difficulties might have occurred. An NBC spokesperson said, "At no point during the debate was any candidate's microphone turned off or muted", but Yang and his supporters have provided video evidence they claim show Yang speaking up but not being heard.
During the second debate in Detroit on July 31, Yang answered questions on topics including civil rights, healthcare, immigration, party strategy, climate, and the economy. He spoke for a total of 8.7 minutes, which was again the least of any candidate on either night. He was the only second-night candidate who did not spend any time in "back-and-forths" with other candidates. Yang drew attention for his decision to not wear a necktie in either debate. In his closing statement, Yang called out the media and the debate formats a September interview with Politico, Yang further clarified his stance on candidates attacking each other at the debates. According to Yang, there "is this sense of manufactured outrage and rehearsed attack lines", and as "a proxy for the American public", he finds "the process to be very false and somewhat misdirected" "It's not left, it's not right, it's forward" has been compared to a similar slogan used by the Green Party of Canada. On August 8, Yang received 2% support in the fourth qualifying poll, thus meeting both qualification criteria for the third debate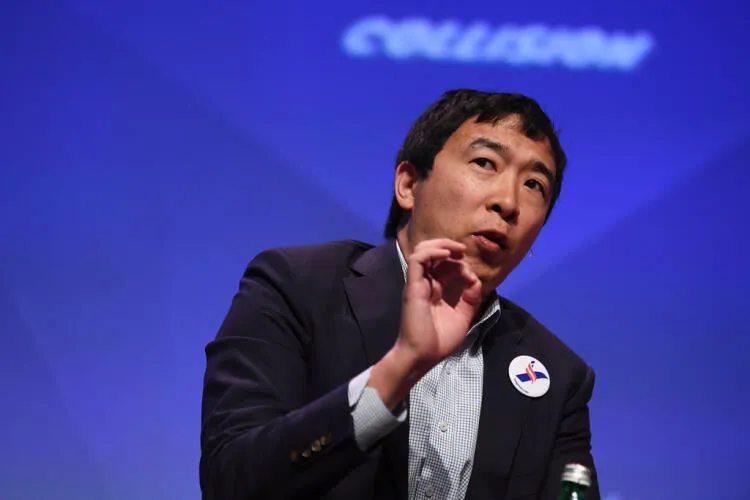 In September 2019 Yang made a testimony before the New York City Commission on Gender Equity, former employee Kimberly Watkins testified that Yang had fired her because he felt that she would not work as hard after getting married. Yang has denied the allegations, saying, "Kimberly Watkins' facts about her break from Manhattan Prep are inaccurate. During my more than a decade as CEO, I have worked with many women, married and otherwise, and value their work and dedication as important to the success of any institution". In an appearance on The View, Yang said, "I've had so many phenomenal women leaders that have elevated me and my organizations at every phase of my career, and if I was that kind of person I would never have had any success"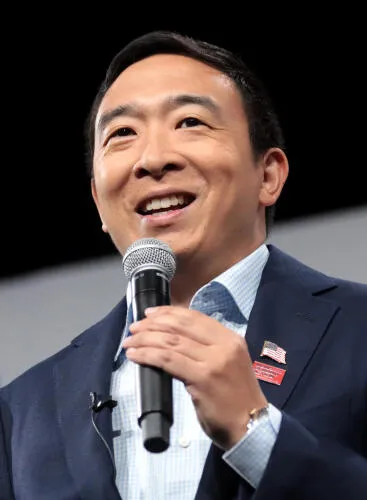 The third debate was held in Houston on September 12. In his opening statement, Yang promised to "give a Freedom Dividend of $1000 a month for an entire year to 10 American families". During the debate, he addressed topics including healthcare, immigration, foreign relations, the War on Terror, corporate lobbying, and education and charter schools. Yang spoke for a total of 7 minutes 54 seconds, which was again the least time of any candidate.
The fourth debate was held on October 15 in Westerville, Ohio. During the debate, Yang discussed topics including impeachment, automation, the economy, taxation, foreign policy, the opioid crisis, big tech, and personal data as a property right, speaking for 8 minutes and 32 seconds, the fourth-least time of any candidate. He proposed decriminalizing opioids, a stance candidate Beto O'Rourke agreed with. Candidates Julian Castro and Tulsi Gabbard said Yang's Freedom Dividend policy "was a good idea, and something they would consider if elected president", while candidate Cory Booker argued that a $15 minimum wage was superior to UBI. Yang also spoke about the potential impeachment inquiry against Donald Trump, saying he supports impeachment, but that "we should not have illusions that impeaching Donald Trump will, one, be successful or, two, erase the problems that got him elected in 2016.