Audrey's father, Joseph Victor Anthony Ruston (21 November 1889 – 16 October 1980), was a British subject born in Auschitz, Bohemia, Austria-Hungary. He was the son of Victor John George Ruston, of British and Austrian background, and Anna Wels, who was of Austrian origin and born in Kovarce.
Hepburn's mother, Baroness Ella van Heemstra (12 June 1900 – 26 August 1984), was a Dutch noblewoman. She was the daughter of Baron Aarnoud van Heemstra, who served as Mayor of Arnhem from 1910 to 1920 and as Governor of Dutch Suriname from 1921 to 1928, and Baroness Elbrig Willemine Henriette van Asbeck (1873–1939).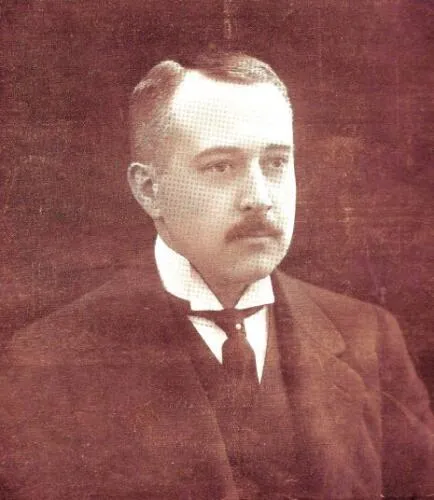 At the age of nineteen, Ella had married Jonkheer Hendrik Gustaaf Adolf Quarles van Ufford, an oil executive based in Batavia, Dutch East Indies, where they subsequently lived.
In 1923–1924, Joseph had been an Honorary British Consul in Semarang in the Dutch East Indies, and prior to his marriage to Hepburn's mother, he had been married to Cornelia Bisschop, a Dutch heiress.
Ella and Hendrik had two sons, Jonkheer Arnoud Robert Alexander Quarles van Ufford (1920–1979) and Jonkheer Ian Edgar Bruce Quarles van Ufford (1924–2010), before divorcing in 1925.
Hepburn's parents were married in Batavia, Dutch East Indies, in September 1926.
At the time, Ruston worked for a trading company, but soon after the marriage, the couple moved to Europe, where he began working for a loan company; reportedly tin merchants MacLaine, Watson, and Company in London and then Brussels.
After a year in London, they moved to Brussels, where he had been assigned to open a branch office.
Hepburn was born Audrey Kathleen Ruston or, later, Hepburn-Ruston on 4 May 1929 at number 48 Rue Keyenveld in Ixelles, Brussels, Belgium. She was known to her family as Adriaantje.
After three years spent traveling between Brussels, Arnhem, The Hague and London, the family settled in the suburban Brussels municipality of Linkebeek in 1932.
Hepburn's early childhood was sheltered and privileged. As a result of her multinational background and traveling with her family due to her father's job, she learned six languages: Dutch and English from her parents, and later varying degrees of French, German, Spanish, and Italian.
In the mid-1930s, Hepburn's parents recruited and collected donations for the British Union of Fascists.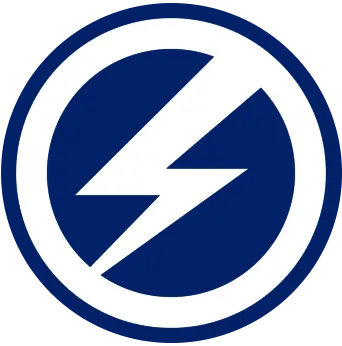 Joseph left the family abruptly in 1935 after a "scene" in Brussels when Adriaantje (as she was known in the family) was six; later she often spoke of the effect on a child of being "dumped" as "children need two parents". Joseph moved to London, where he became more deeply involved in the Fascist activity and never visited his daughter abroad. Hepburn later professed that her father's departure was "the most traumatic event of my life".
That same year, Ella moved with Hepburn to her family's estate in Arnhem; her half-brothers Alex and Ian (then 15 and 11) were sent to The Hague to live with relatives.
Joseph wanted her to be educated in England, so in 1937, Hepburn was sent to live in Kent, England, where she, known as Audrey Ruston or "Little Audrey", was educated at a small independent school in Elham.
After Britain declared war on Germany in September 1939, Hepburn's mother moved her daughter back to Arnhem in the hope that, as during the First World War, the Netherlands would remain neutral and be spared a German attack.
Hepburn attended the Arnhem Conservatory from 1939 to 1945. She had begun taking ballet lessons during her last years at boarding school, and continued training in Arnhem under the tutelage of Winja Marova, becoming her "star pupil".
After the Germans invaded the Netherlands in 1940, Hepburn used the name Edda van Heemstra, because an "English-sounding" name was considered dangerous during the German occupation. Her family was profoundly affected by the occupation, with Hepburn later stating that "had we known that we were going to be occupied for five years, we might have all shot ourselves. We thought it might be over next week… six months… next year… that's how we got through".
In 1942, her uncle, Otto van Limburg Stirum (husband of her mother's older sister, Miesje), was executed in retaliation for an act of sabotage by the resistance movement; while he had not been involved in the act, he was targeted due to his family's prominence in Dutch society. Hepburn's half-brother Ian was deported to Berlin to work in a German labor camp, and her other half-brother Alex went into hiding to avoid the same fate.
After her uncle's death, Hepburn, Ella and Miesje left Arnhem to live with her grandfather, Baron Aarnoud van Heemstra, in nearby Velp. Around that time Hepburn performed silent dance performances to raise money for the Dutch resistance effort. It was long believed that she participated in the Dutch resistance itself.
After the Allied landing on D-Day, living conditions grew worse, and Arnhem was subsequently heavily damaged during Operation Market Garden. During the Dutch famine that followed in the winter of 1944, the Germans blocked the resupply routes of the Dutch people's already limited food and fuel supplies as retaliation for railway strikes that were held to hinder German occupation. Like others, Hepburn's family resorted to making flour out of tulip bulbs to bake cakes and biscuits; she developed acute anaemia, respiratory problems and oedema as a result of malnutrition. The Van Heemstra family was also seriously financially affected by the occupation, during which many of their properties, including their principal estate in Arnhem, were badly damaged or destroyed.
After the war ended in 1945, Hepburn moved with her mother and siblings to Amsterdam, where she began ballet training under Sonia Gaskell, a leading figure in Dutch ballet, and Russian teacher Olga Tarasova.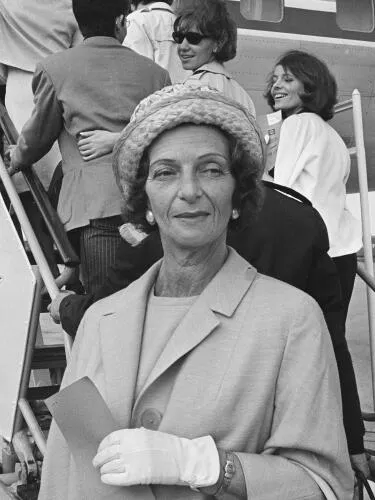 As the family's fortunes had been lost during the war, Ella supported them by working as a cook and housekeeper for a wealthy family.
Hepburn made her film debut playing an air stewardess in Dutch in Seven Lessons (1948), an educational travel film made by Charles van der Linden and Henry Josephson.
Hepburn moved to London after accepting a ballet scholarship with Ballet Rambert, which was then based in Notting Hill.
While Ella worked in menial jobs to support them, Hepburn appeared as a chorus girl in the West End musical theatre revues High Button Shoes (1948) at the London Hippodrome, and Cecil Landeau's Sauce Tartare (1949) and Sauce Piquante (1950) at the Cambridge Theatre. During her theatrical work, she took elocution lessons with actor Felix Aylmer to develop her voice.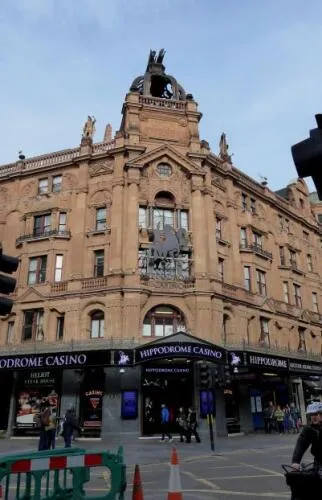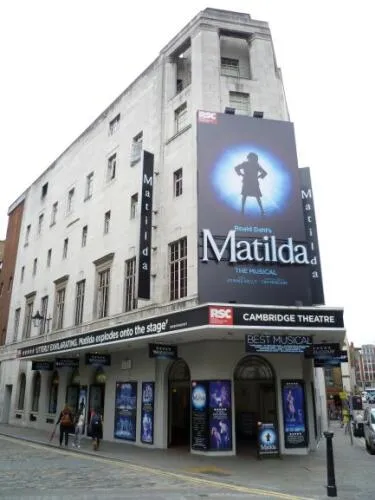 After being spotted by a casting director while performing in Sauce Piquante, Hepburn was registered as a freelance actress with the Associated British Picture Corporation (ABPC).
Hepburn appeared in minor roles in the films One Wild Oat, Laughter in Paradise, Young Wives' Tale, and The Lavender Hill Mob (all 1951).
Hepburn was then offered a small role in a film being shot in both English and French, Monte Carlo Baby, which was filmed in Monte Carlo.
Coincidentally, French novelist Colette was at the Hôtel de Paris in Monte Carlo during the filming and decided to cast Hepburn in the title role in the Broadway play Gigi.
Hepburn went into rehearsals having never spoken on stage, and required private coaching. When Gigi opened at the Fulton Theatre on 24 November 1951, she received praise for her performance, despite criticism that the stage version was inferior to the French film adaptation. The play ran for 219 performances, closing on 31 May 1952.
Audrey was cast in her first major supporting role in Thorold Dickinson's The Secret People (1952), as a prodigious ballerina, performing all of her own dancing sequences.
Audrey went on tour which began 13 October 1952 in Pittsburgh and visited Cleveland, Chicago, Detroit, Washington, D. C., and Los Angeles, before closing on 16 May 1953 in San Francisco.
In 1952, Hepburn became engaged to industrialist James Hanson, whom she had known since her early days in London. She called it "love at first sight", but after having her wedding dress fitted and the date set, she decided the marriage would not work because the demands of their careers would keep them apart most of the time. She issued a public statement about her decision, saying "When I get married, I want to be really married".
Hepburn had her first starring role in Roman Holiday (1953), playing Princess Ann, a European princess who escapes the reins of royalty and has a wild night out with an American newsman (Gregory Peck). The producers of the movie initially wanted Elizabeth Taylor for the role, but director William Wyler was so impressed by Hepburn's screen test that he cast her instead.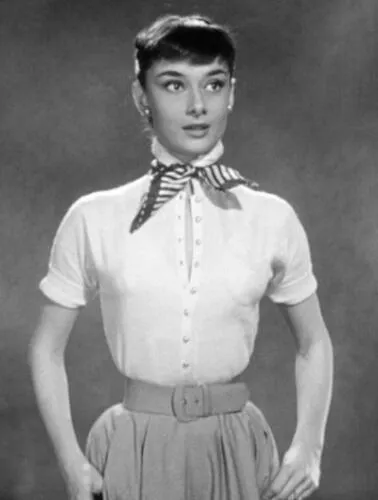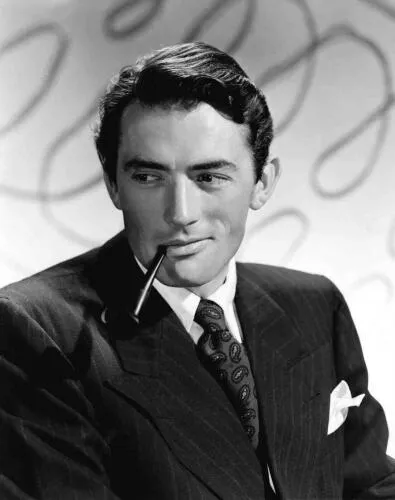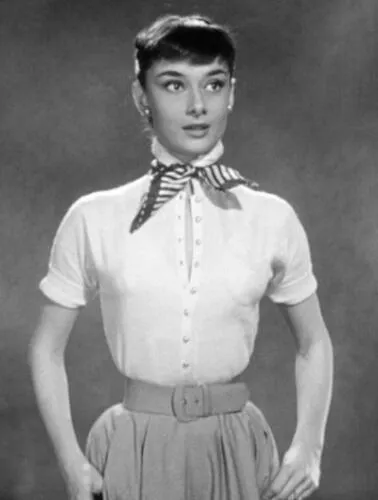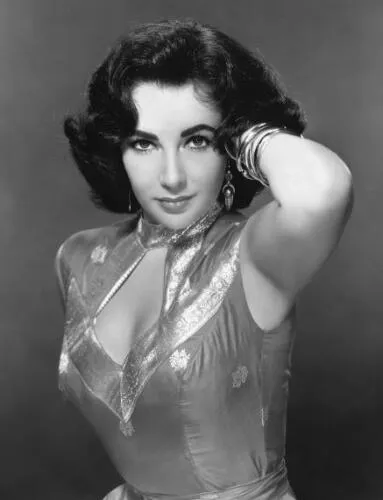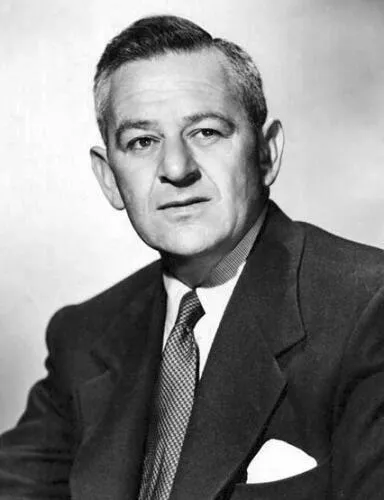 Hepburn was featured on 7 September 1953 cover of Time magazine, and also became known for her personal style.
Roman Holiday was a box-office success, and Hepburn gained critical acclaim for her portrayal, unexpectedly winning an Academy Award for Best Actress, a BAFTA Award for Best British Actress in a Leading Role, and a Golden Globe Award for Best Actress – Motion Picture Drama in 1953 and 1954.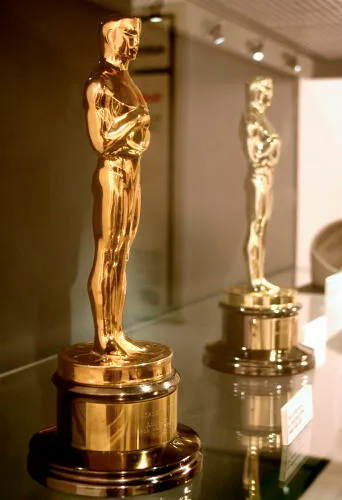 Hepburn also returned to the stage in 1954, playing a water nymph who falls in love with a human in the fantasy play Ondine on Broadway.
During the production, Hepburn and her co-star, Mel Ferrer began a relationship and were married on 25 September 1954 in Switzerland.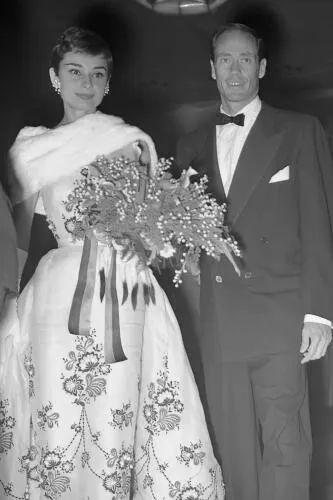 Although she appeared in no new film releases in 1955, Hepburn received the Golden Globe for World Film Favorite that year.
In the 1950s, Hepburn narrated two radio programmes for UNICEF, re-telling children's stories of war.
Having become one of Hollywood's most popular box-office attractions, she starred in a series of successful films during the remainder of the decade, including her BAFTA- and Golden Globe-nominated role as Natasha Rostova in War and Peace (1956), an adaptation of the Tolstoy novel set during the Napoleonic wars, starring Henry Fonda and her husband Mel Ferrer.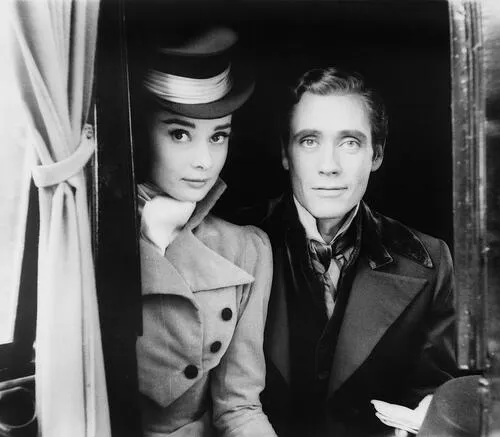 Hepburn exhibited her dancing abilities in her debut musical film, Funny Face (1957), wherein Fred Astaire, a fashion photographer, discovers a beatnik bookstore clerk (Hepburn) who, lured by a free trip to Paris, becomes a beautiful model.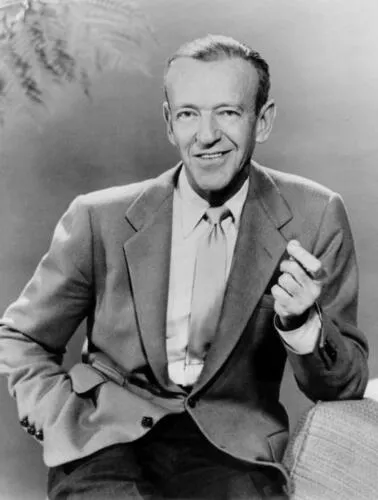 Hepburn starred in another romantic comedy, Love in the Afternoon (also 1957), alongside Gary Cooper and Maurice Chevalier.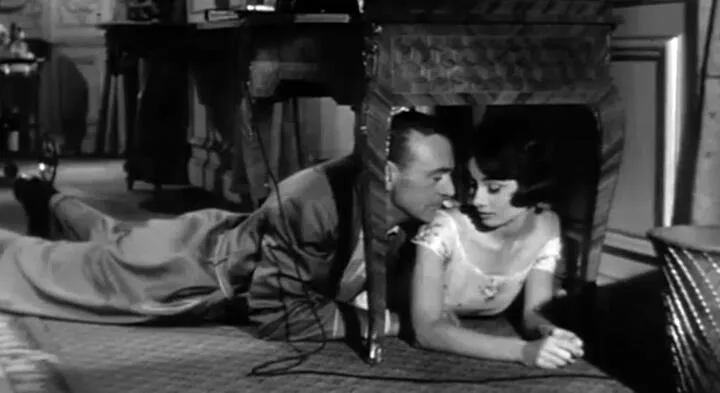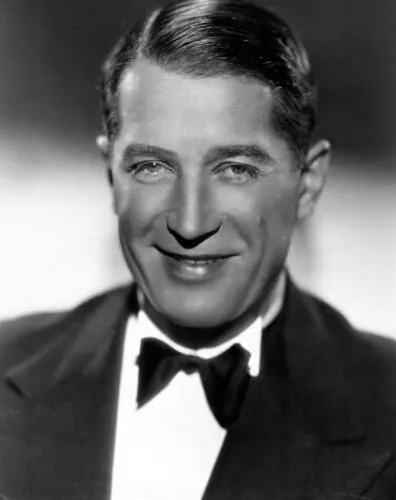 Hepburn played Sister Luke in The Nun's Story (1959), which focuses on the character's struggle to succeed as a nun, alongside co-star Peter Finch.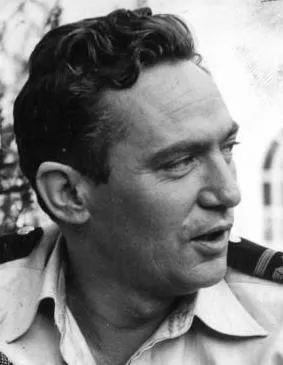 Following The Nun's Story, Hepburn received a lukewarm reception for starring with Anthony Perkins in the romantic adventure Green Mansions (1959), in which she played Rima, a jungle girl who falls in love with a Venezuelan traveler.
The role produced a third Academy Award nomination for Hepburn, and earned her a second BAFTA Award.
In The Unforgiven (1960), her only western film, in which she appeared opposite Burt Lancaster and Lillian Gish in a story of racism against a group of Native Americans.
Hepburn's son Sean Hepburn Ferrer was born on 17 July 1960.
Hepburn next starred as New Yorker Holly Golightly, in Blake Edwards's Breakfast at Tiffany's (1961), a film loosely based on the Truman Capote novella of the same name.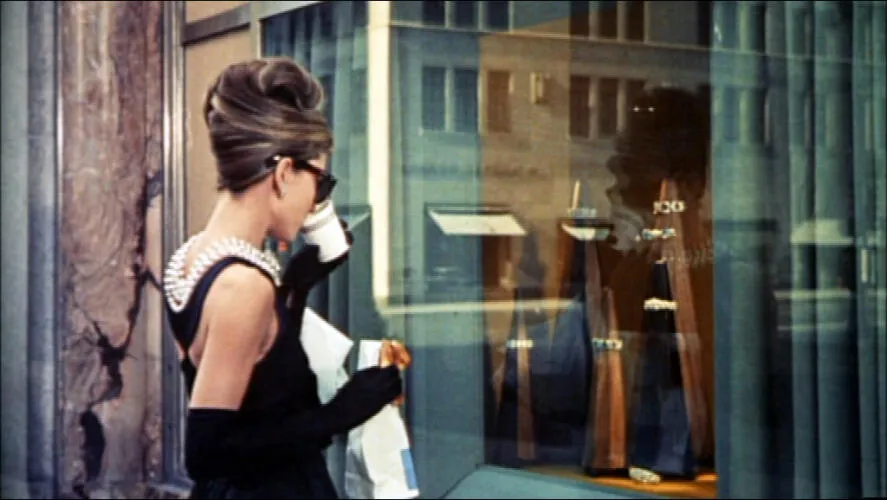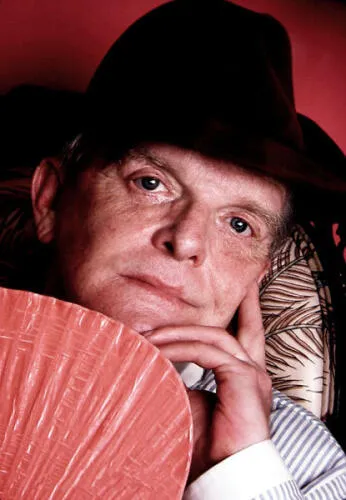 The same year, Hepburn also starred in William Wyler's drama The Children's Hour (1961), in which she and Shirley MacLaine played teachers whose lives become troubled after two pupils accuse them of being lesbians.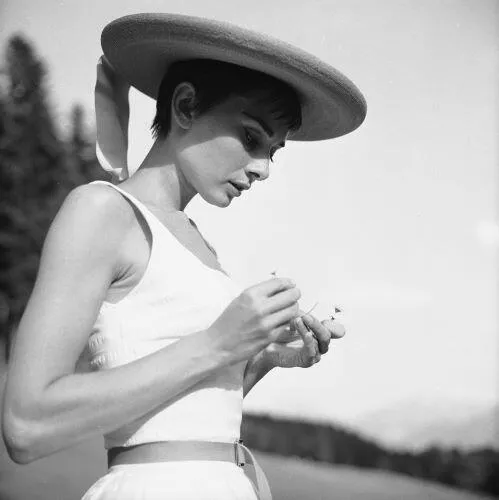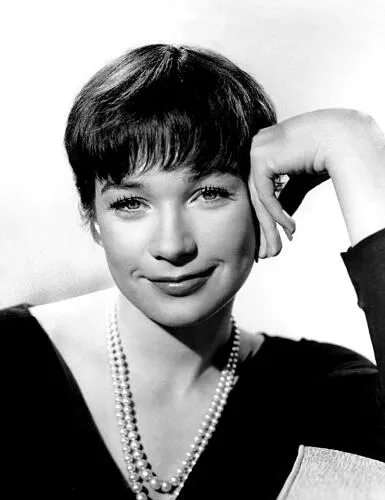 Hepburn next appeared opposite Cary Grant in the comic thriller Charade (1963), playing a young widow pursued by several men who chase the fortune stolen by her murdered husband. The 59-year-old Grant, who had previously withdrawn from the starring male lead roles in Roman Holiday and Sabrina, was sensitive about his age difference with 34-year-old Hepburn, and was uncomfortable about the romantic interplay. To satisfy his concerns, the filmmakers agreed to alter the screenplay so that Hepburn's character was pursuing him.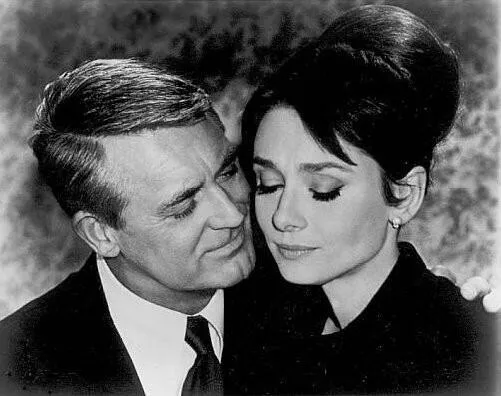 Hepburn reunited with her Sabrina co-star William Holden in Paris When It Sizzles (1964), a screwball comedy in which she played the young assistant of a Hollywood screenwriter, who aids his writer's block by acting out his fantasies of possible plots.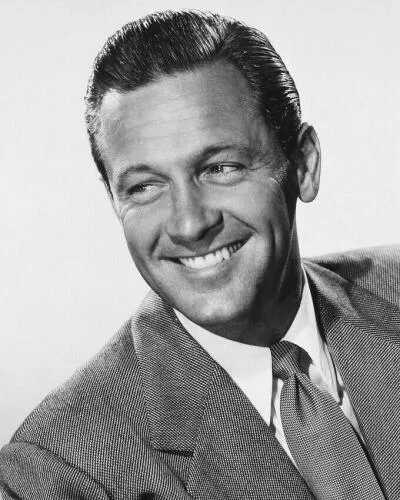 Hepburn's second film released in 1964 was George Cukor's film adaptation of the stage musical My Fair Lady, which premiered in October.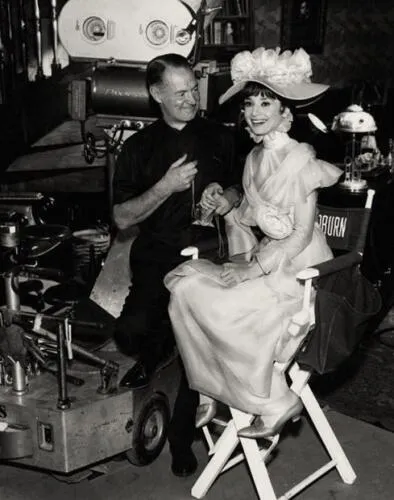 As the decade carried on, Hepburn appeared in an assortment of genres including the heist comedy How to Steal a Million (1966) where she played the daughter of a famous art collector, whose collection consists entirely of forgeries. Fearing her father's exposure, she sets out to steal one of his "priceless" statues with the help of a man played by Peter O'Toole.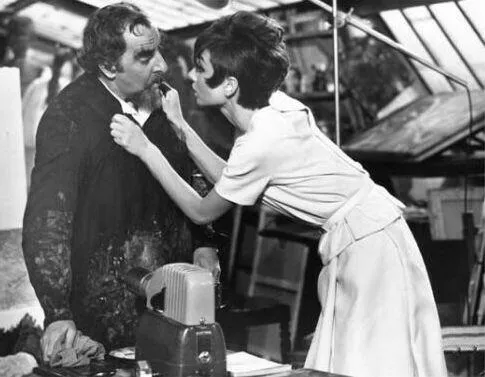 Hepburn appeared in Two for the Road, a non-linear and innovative British dramedy that traces the course of a couple's troubled marriage. Director Stanley Donen said that Hepburn was more free and happy than he had ever seen her, and he credited that to co-star Albert Finney.
Audrey has also appeared in Wait Until Dark, is a suspense thriller in which Hepburn demonstrated her acting range by playing the part of a terrorized blind woman. Filmed on the brink of her divorce, it was a difficult film for her, as husband Mel Ferrer was its producer. She lost fifteen pounds under the stress, but she found solace in co-star Richard Crenna and director Terence Young.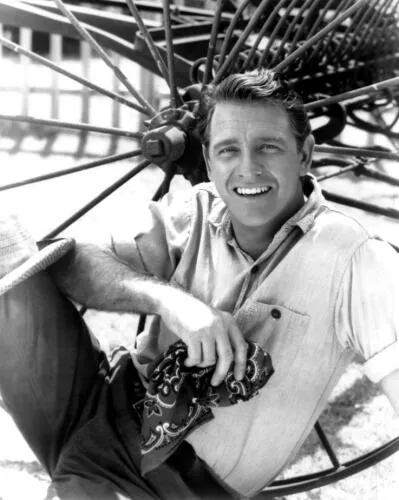 Despite the insistence from gossip columns that their marriage would not last, Hepburn claimed that she and Ferrer were inseparable and happy together, though she admitted that he had a bad temper. Ferrer was rumored to be too controlling, and had been referred to by others as being her "Svengali" – an accusation that Hepburn laughed off. William Holden was quoted as saying, "I think Audrey allows Mel to think he influences her." After a 14-year marriage, the couple divorced in 1968.
Hepburn met her second husband, Italian psychiatrist Andrea Dotti, on a Mediterranean cruise with friends in June 1968. She believed she would have more children and possibly stop working. They married on 18 January 1969.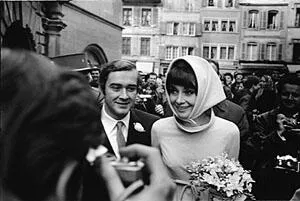 Aubrey's son Luca Andrea Dotti was born on 8 February 1970.
After 1967, Hepburn chose to devote more time to her family and acted only occasionally in the following decades. She attempted a comeback playing Maid Marian in the period piece Robin and Marian (1976) with Sean Connery co-starring as Robin Hood, which was moderately successful.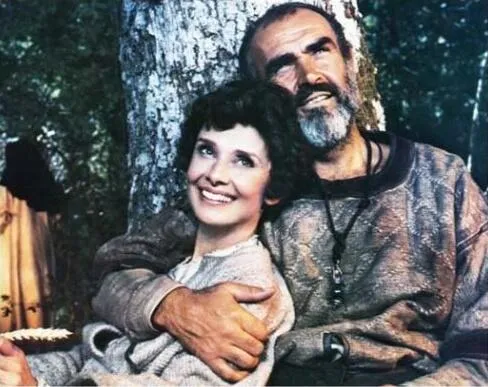 Hepburn reunited with director Terence Young in the production of Bloodline (1979), sharing top-billing with Ben Gazzara, James Mason, and Romy Schneider.
Hepburn's last starring role in a feature film was opposite Gazzara in the comedy They All Laughed (1981), directed by Peter Bogdanovich. The film was overshadowed by the murder of one of its stars, Dorothy Stratten, and received only a limited release.
The Dotti-Hepburn marriage lasted thirteen years and was dissolved in 1982.
Hepburn co-starred with Robert Wagner in a made-for-television caper film, Love Among Thieves (1987).
Hepburn's first field mission for UNICEF was to Ethiopia in 1988. She visited an orphanage in Mek'ele that housed 500 starving children and had UNICEF send food. Of the trip, she said, "I have a broken heart. I feel desperate. I can't stand the idea that two million people are in imminent danger of starving to death, many of them children, [and] not because there isn't tons of food sitting in the northern port of Shoa. It can't be distributed. Last spring, Red Cross and UNICEF workers were ordered out of the northern provinces because of two simultaneous civil wars... I went into rebel country and saw mothers and their children who had walked for ten days, even three weeks, looking for food, settling onto the desert floor into makeshift camps where they may die. Horrible. That image is too much for me. The 'Third World' is a term I don't like very much, because we're all one world. I want people to know that the largest part of humanity is suffering".
In August 1988, Hepburn went to Turkey on an immunization campaign. She called Turkey "the loveliest example" of UNICEF's capabilities. Of the trip, she said, "The army gave us their trucks, the fishmongers gave their wagons for the vaccines, and once the date was set, it took ten days to vaccinate the whole country. Not bad".
In October, Hepburn went to South America. Of her experiences in Venezuela and Ecuador, Hepburn told the United States Congress, "I saw tiny mountain communities, slums, and shantytowns receive water systems for the first time by some miracle – and the miracle is UNICEF. I watched boys build their own schoolhouse with bricks and cement provided by UNICEF".
Hepburn toured Central America in February 1989, and met with leaders in Honduras, El Salvador, and Guatemala.
In April, Hepburn visited Sudan with Wolders as part of a mission called "Operation Lifeline". Because of the civil war, food from aid agencies had been cut off. The mission was to ferry food to southern Sudan. Hepburn said, "I saw but one glaring truth: These are not natural disasters but man-made tragedies for which there is only one man-made solution – peace".
In October 1989, Hepburn and Wolders went to Bangladesh. John Isaac, a UN photographer, said, "Often the kids would have flies all over them, but she would just go hug them. I had never seen that. Other people had a certain amount of hesitation, but she would just grab them. Children would just come up to hold her hand, touch her – she was like the Pied Piper".
In 1989, Hepburn was appointed a Goodwill Ambassador of UNICEF. On her appointment, she stated that she was grateful for receiving international aid after enduring the German occupation as a child, and wanted to show her gratitude to the organization.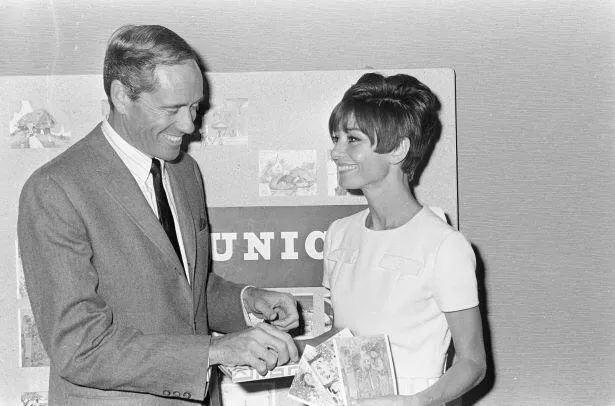 From 1980 until her death, Hepburn was in a relationship with Dutch actor Robert Wolders, the widower of actress Merle Oberon. She had met Wolders through a friend during the later years of her second marriage. In 1989, she called the nine years she had spent with him the happiest years of her life, and stated that she considered them married, just not officially.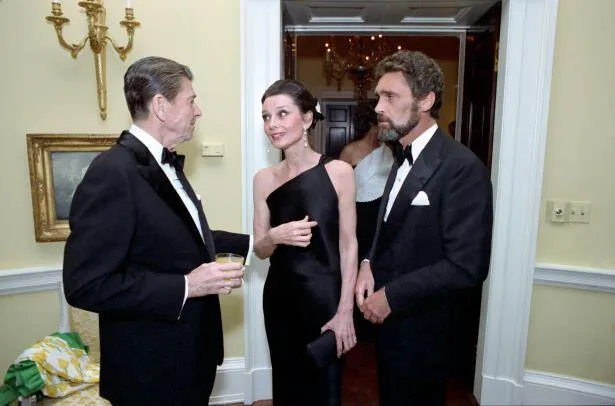 Audrey had finished her last motion picture role—a cameo appearance as an angel in Steven Spielberg's Always (1989).
In October 1990, Hepburn went to Vietnam, in an effort to collaborate with the government for national UNICEF-supported immunization and clean water programmes.
Hepburn completed only two more entertainment-related projects, both critically acclaimed. Gardens of the World with Audrey Hepburn was a PBS documentary series, which was filmed on location in seven countries in the spring and summer of 1990. A one-hour special preceded it in March 1991, and the series itself began airing the day after her death, 21 January 1993. For the debut episode, Hepburn was posthumously awarded the 1993 Emmy Award for Outstanding Individual Achievement – Informational Programming.
In September 1992, four months before she died, Hepburn went to Somalia. Calling it "apocalyptic", she said, "I walked into a nightmare. I have seen famine in Ethiopia and Bangladesh, but I have seen nothing like this – so much worse than I could possibly have imagined. I wasn't prepared for this".
The other project was a spoken word album, Audrey Hepburn's Enchanted Tales, which features readings of classic children's stories and was recorded in 1992. It earned her a posthumous Grammy Award for Best Spoken Word Album for Children.
United States president George H. W. Bush presented Hepburn with the Presidential Medal of Freedom in recognition of her work with UNICEF.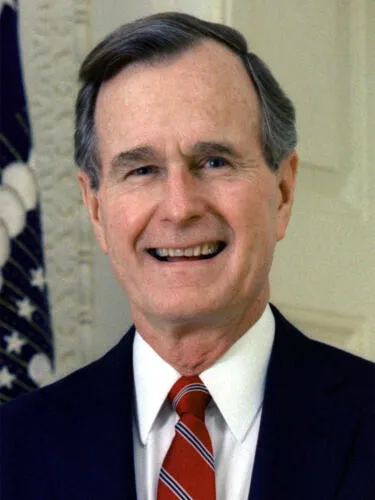 On the evening of 20 January 1993, Hepburn died in her sleep at home. After her death, Gregory Peck went on camera and tearfully recited her favorite poem, "Unending Love" by Rabindranath Tagore.
Funeral services were held at the village church of Tolochenaz on 24 January 1993.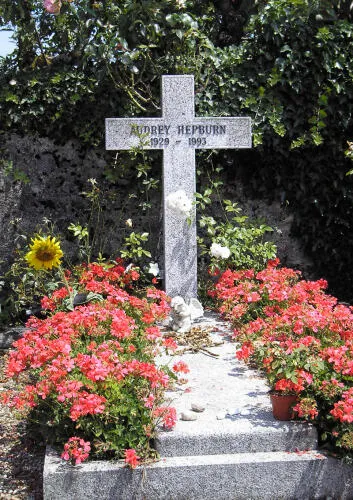 In 2002, at the United Nations Special Session on Children, UNICEF honored Hepburn's legacy of humanitarian work by unveiling a statue, "The Spirit of Audrey", at UNICEF's New York headquarters. Her service for children is also recognized through the United States Fund for UNICEF's Audrey Hepburn Society.